UCM Solution Architecture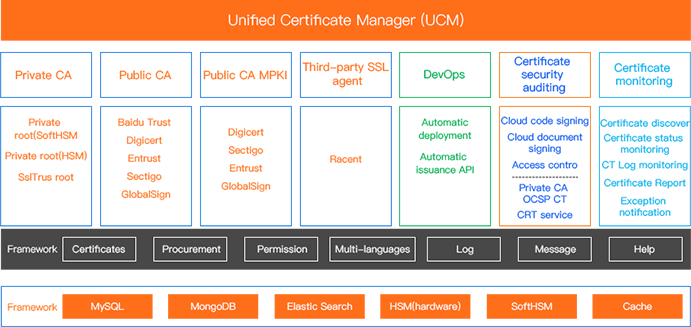 Various Digital Certificates
A wide variety of digital certificates are required for different application scenarios, and different digital certificates can be applied for different businesses.
Self-signed Certificates
Enterprises can freely apply for the issuance of digital certificates to meet the authentication needs of internal staff portals or communication sites. It facilitates certificate management and effectively reduces maintenance costs.
Digital Certificate Monitoring
Scans, monitors, and detects all digital certificates in the enterprise, and gives early warnings for certificates that are about to expire or abnormal certificates.
Employee Permissions Management
Departments and groups within the enterprise can, according to actual needs, set permissions for application issuance, certificate use, deployment and update, etc.
Contact Us
UCM Features
Secure, Stable and Scalable
NicSRS UCM issues thousands of commercial certificates every day, and cloud-based private CAs can issue millions of certificates daily. The platform stably provides digital security services through a highly flexible and usable structure.
High Level of Automation
The UCM system supports API automatic application and download of certificates, and automatic SSL certificate monitoring, recycling and re-update, providing enterprises with full lifecycle management services.
Broad Product Portfolio
SSL certificates, code signing certificates, S/MIME, document signing, device certificates provided by different CAs can be issued for different business scenarios to meet the various needs of users.
Big Data Support
The system monitors global SSL certificate issuance log, quickly analyzes violation records, and instantly gives warnings if an abnormal certificate is found.
Quick Response
Supports mass issuance and deployment of SSL and IoT certificates, achieving industry-leading issuance times. For private CAs, UCM also provides the fast online certificate status protocol (OCSP, CRT, CRL services).
Meet Compliance Requirements
In compliance with international security specifications. Uses softHSM or HSM to enhance key security management.
Application Scenarios
Protect your website, application, software and information security.

Website communication encryption

Email Encryption, anti-phishing

Document signing & contract signing

Website login authentication

Mobile device connection control

IoT devices

Smart card access management

Wi-Fi connection

VPN access control
UCM Q&A
Q

Which algorithm suite certificates can the UCM system issue?

A

NicSRS UCM integrates digital certificates from globally renowned brands including sslTrus, Sectigo, DigiCert, Entrust and GeoTrust, etc. It supports the issuance of certificates using RSA and ECC encryption algorithms as well as SM2 algorithm, and can perform lifecycle management such as revocation and re-signing.
Q

How to know the issuance, deployment status and actual expiration date of SSL certificates?

A

The certificate status can be synced through the digital certificate management system API. The monitoring function can check the deployment status and expiration of certificates on each node. When an abnormality is detected, the system will send a warning notification.
Q

How to realize the automatic deployment of SSL certificates to reduce workload and error rate?

A

The system supports automatic deployment and certificate monitoring, which can reduce the workload of O&M staff and improve the efficiency of certificate management.
Q

What is cloud code signing?

A

Cloud-based code signing means that the code signing certificates are stored in a server farm, and the customer adds digital signatures to their code in the cloud. All operations are logged and archived for future upgrades. This solution has the advantages of low cost and high security, and can meet the code signing requirements of most enterprises, especially when the enterprise has a remote R&D team.
Q

How do you provide product support?

A

Customers can contact their exclusive account managers at NicSRS or start a live chat for support.