Popular SSL Certificates
Buy SSL certificates at lowest price—SAVE UP TO 85%
FILTER BY:
SSL Certificate Types
SSL cert types
DV SSL certificate
OV SSL certificate
EV SSL certificate
Trust level
Validation procedure
Domain ownership
Domain ownership Organization identity
Domain ownership Organization identity Telephone verification
Issuance time
3-5 minutes or less
1-3 business days
1-5 business days
Domain secured
Available to a single domain, multi-domain and wildcard
Available to a single domain, multi-domain and wildcard
Both a single domain and multi-domain
Suitable for
Personal blogs, startups, small or medium-sized businesses
Medium to large official websites and platforms (OA, CRM, ERP, HRM, etc) and non-profits institutions
E-commerce, banking, government, healthcare, social media
Features & benefits

No paperwork required
Immediate issuance
Low cost certificates
Basic industry-standard encryption

Organization authentication
Rpbust 256-bit symmetric encryption
Trust indicators – HTTPS & Padlock
Increase website credibility

Strong SSL Encryption
Highest level of authentication
Showcase organization name in address bar
Boost conversion & sales
Increase user's trust and confidence

Hot SSL products

hotPositiveSSL DV Wildcard SSL

hotDigicert Secure site EV Flex
More SSL Certificate Products
| | | |
| --- | --- | --- |
| Wildcard SSL Certificates | Wildcard SSL Certificates are used for protecting your main domain and its first level unlimited sub-domains with one certificate. Moreover, the certificate is flexible for you to add or remove new subdomains later without reissuance. So a Wildcard SSL Certificate is a perfect option for these website masters that have a numerous subdomains and look for simplified SSL management and money & time-saving. | View more |
| Multi-domain SSL Certificates | If an organization needs to secure multiple domains with a single certificate, then Multi-Domain (UCC/SAN) SSL certificate is your best choice. It is a affordable and conveninent solution - since Multi-domain certificate can protect up to 250 different Fully Qualified Domain Names (FQDNs) and it allows to add more SANs with additional fees during certificate lifecycle. | View more |
| IP SSL Certificates | IP SSL certificate is specially designed for these enterprises to activate HTTPS and a padlock for IP addresses, effectively build a robust and reliable connection between clients and your servers. Both DV and OV SSL certificates can be utilized for a public IP address or multiple IP addresses. | View more |
Why Do You Need An SSL Certificate?
Encrypt Sensitive Information
The core task of an SSL certificate is to encrypt and secure sensitive and personal information such as usernames, passwords, credit cards and more. The information becomes unreadable to everyone except for the server you are sending to. An SSL certificate protects it from hackers and identity thieves.
Affirm Your Identity
What's the second function of SSL certificate is to offer authentication to a website. Certificate Authority doesn't issue an SSL certificate until it verifies the applicant's identity. By doing so, a website installed SSL certificate can protect visitors from browsing these fake sites. If utilizing OV or EV SSL, the legitimate entities displayed in certificate details will tell who you are.
Improve Search Engine Ranking
Installing SSL certificate is a way of the SEO improvement in rankings. Google gives HTTPS-enabled websites a better ranking than those without SSL certificates. So why don't you want to get an edge over your competitors only by investing SSL certificates, right?
Eliminate Unsafe Warnings
When someone accesses to your website which is not deployed with SSL certificate, a "Not Secure" warning will pop up in their browsers. The other way around, if you install and implement SSL Certificates, it will eliminate these warnings and show a secured padlock in the address bar.
Increase Customer Trust
A significant benefit of SSL certificates is that they will help you boost customers' trust. The website starting with "https://" and showing a secured padlock in the address bar indicates that the connection is secure. And if you install an OV or EV SSL, they can see your company details. Once they know, they're far more likely to do business with you or even visit your site again.
Satisfy PCI/DSS Requirements
If you accept online payments, you must know a thing or two about PCI requirements. To receive online payments, your website must be PCI compliant. Having an SSL certificate installed is one of the primary requirements set by the payment card industry (PCI). Therefore, SSL is essential—whether you want it or not.
Easy to Pick the Best SSL Certificate
That's why I'm going to lay out each kind of SSL certificate and what they do so that you'll be able to choose the best one that suits your company's needs. Now, we'll outline some common scenarios and the types of SSL that are ideal for that situation. Follow the buyer's guide to get the optimum certificate.
Depend on Number of Domains
If only a single domain is to be protected, then a single domain or standard certificate has to be purchased with the trust level - DV, OV, or EV SSL of your choice. For example, either a small blog or a small website that doesn't require people to hand over personal information, then a single-domain SSL with DV validation is ideal for you. However, your users are required to enter sensitive information, such as password or ID cards; we recommend a single-domain SSL that has either OV or EV validation level, depending on the size of your business.
If you have a single domain with multiple subdomains, a Wildcard SSL certificate is recommended to cover the unlimited subdomains under the same main domain. Subdomains can often encompass many uses, such as forums, logins, emails, and online shops. For these scenarios, Wildcard SSL certificate is wonderful. Keep in mind only DV Wildcard and OV Wildcard certificate are alternative for you.
If you have amounts of different Fully Qualified Domain Names (FQDNs), then a Multi-Domain SSL certificate is your ideal choice. Also, it is widely applied to Microsoft Exchange or Office Communications Server. Which differs from Wildcard Certificate, Multi-Domain (SAN) certificate supports all validation levels, that is, DV, OV and EV certificate.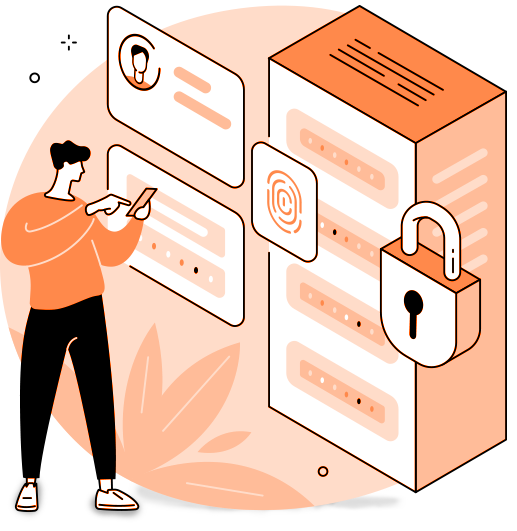 Hinge on Your Business
If you master a blog, or a personal, business or news website where visitors do not enter their personal data or pay money, a DV SSL certificate that provide industry-standard encrypted security and entry-level credibility may meet your needs. Whereas, an OV SSL certificate is more suitable for those servers who deal with confidential information and show the organization identity to users. When it refers to e-commerce or financial enterprises, there's never been a better choice for an Extended Validation certificate, to offer your customers assurance that they're in the right place. Accordingly, more credibility leads to more conversions and orders for you!
How do I get an SSL certificate?

Order suitable cert

Submit CSR

Validation completed

Access to cert
FAQs on SSL certificates
Q

What is SSL certificate?

A

SSL certificate is also called server identity certificate that is generally issued by a legitimate certificate authority. The main object of SSL certificate is to create a secure channel between the user's browser and the web server for the transmission of data and information. Moreover, SSL certificates are one of the digital certificates which prove that the identity of the websites is authenticated and all the information sent to SSL installed website will stay encrypted with the help of SSL/TLS technology.
Q

Not payment transactions required, no SSL needed?

A

Many people believe that they don't need an SSL for their sites because they don't have an exclusive payment portal. It does make sense on some levels, as hackers and cybercriminals are only after the payment information, such as credit cards and banking details. But, what you don't know is that it is just the tip of the iceberg.

If your simple pieces of information are being fallen into the wrong hands then it can twist your entire online security. As, the most simple and harmless information such as email address can give hackers a clue about the login credentials, as they can try to use your username login for other websites.
Q

What is the difference between an SSL Certificate and Site Seal?

A

SSL Certificates can encrypt and secure any data transmitted between a client's web browser and web servers.

Site Seal is a symbol or sign that allows websites to display real-time data updates verifying their business' legitimacy and website details which increases online reputation, confidence, and conversion rates.

If you buy an SSL certificate from public CAs, such as, Sectigo or Digicert, they will provide you their Site Seal simultaneously.
Q

What are the benefits of Flex SSL Certificates?

A
Mix with single domain name, wildcard or SAN certificates
Support certificate subscription for up to 6 years
Be flexible and convenient when using and managing digital certificates
Save money and time
Q

What type of SSL does Wechat applet apply for?

A

In general, DV SSL certificates are suitable, at the same time, you can also choose according to the needs of your own enterprise. We offer DV certificates from topmost CAs, such as GeoTrust, DigiCert, GlobalSign, sslTrus, etc. The cheapest of them is sslTrus DV SSL.
Q

Does SSL certificate expiration impact SEO?

A

Of course. After the SSL certificate expires, the website will not be protected, and the warning "not secure" will appear again when users visit this website, which seriously affects customer experience and lowers the credibility. If not updated in time, the ranking will be greatly dropped.