This year, NicSRS has been discussing how to strengthen online security and provide a more user-friendly experience. We are excited to share with everyone the next significant part of this work: Our newly upgraded company page. This upgrade focuses on our brand-new product pages and features. Let me walk you through it.
Introduction to NicSRS and Welcom New Visitors
As one of the biggest SSL reseller platforms, NicSRS is committed to providing you with the most competitive and reliable SSL product series, along with experienced after-sales service and technical support. In addition, NicSRS' product offerings go beyond SSL certificates and include encrypted email solutions, code protection, and more.
This upgrade has made popular products available to all our users. We'll focus on introducing the key pages of this upgrade.
VMC: Strengthening Email Authentication
One of the standout additions to the NicSRS website is the dedicated VMC page. Verified Mark Certificates have emerged as a powerful tool in the battle against email fraud and phishing attempts. It is a cryptographic certificate that authenticates the sender of an email, assuring the recipient that the email is indeed from a legitimate source. It helps users distinguish between genuine emails from trusted entities and potentially harmful phishing attempts. NicSRS has added this product page to facilitate users in easily purchasing and managing VMCs, supported by a professional after-sales team, paving the way for more secure email communication.
Certum: Elevating Digital Security
NicSRS has also added the Certum SSL certificate page to facilitate users in making a variety of choices. The products include DV, OV, and EV SSL certificates, with options for single-domain, multi-domain, and wildcard certificates. The concise product descriptions enable users to have a clear understanding of the features of each product. Furthermore, for those unsure about which certificate suits their business, users can make a selection based on the comparison table provided on this page.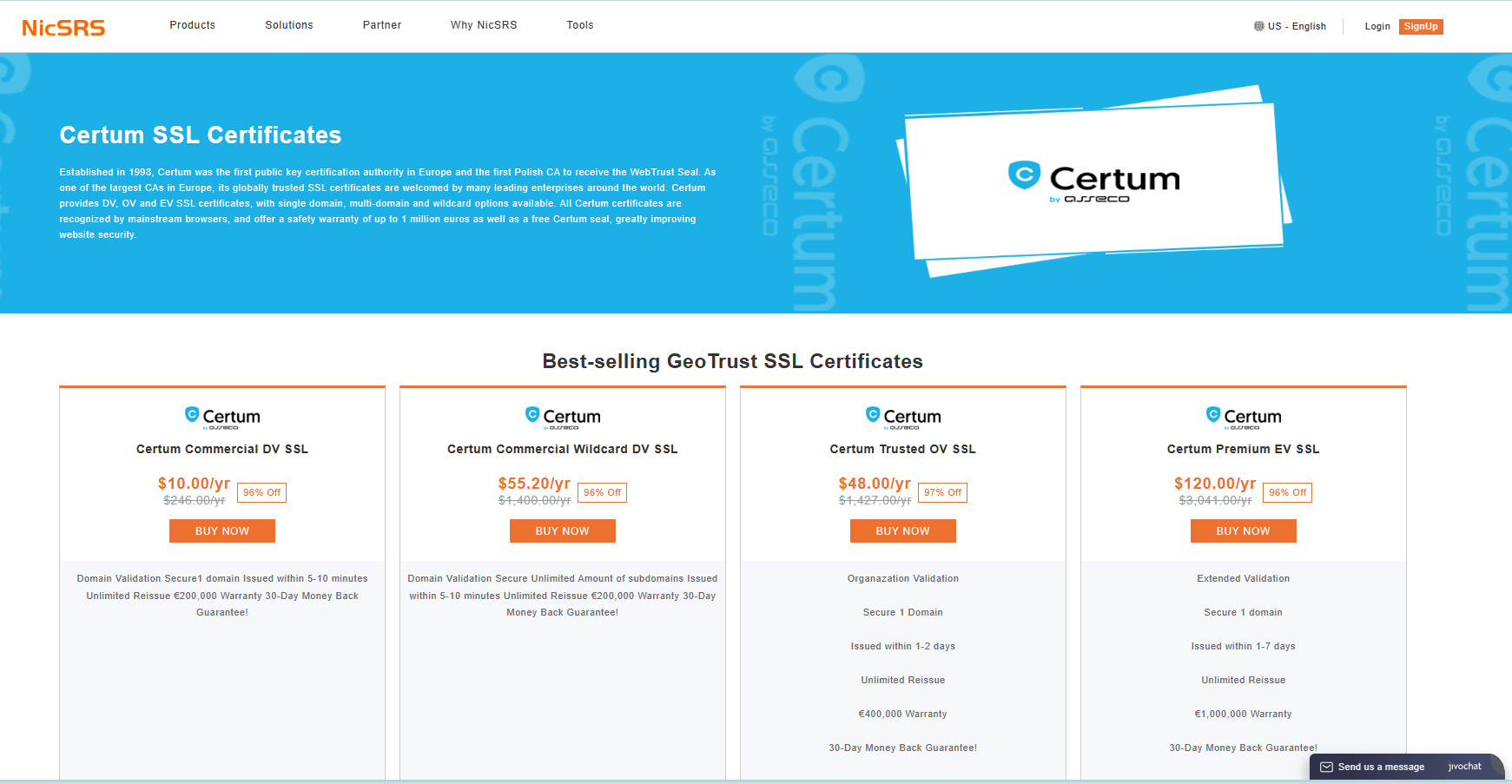 PositiveSSL: Affordable Security for All
In a nod to affordability without compromising security, NicSRS has prioritized PositiveSSL. PositiveSSL, a Sectigo product, is renowned for its cost-effective SSL certificates. PositiveSSL products include DV, OV, EV, SSL certificates. Users can choose appropriate products according to actual needs. If you have two standard domains or two wildcard domains that need protection, PositiveSSL Multi-Domain Wildcard (DV) Certificate and PositiveSSL DV Mixed Multi-Domain SSL Certificate offer you an economical and efficient solution. These two certificates allow for low management costs while achieving the best value for your money. For more details, look here.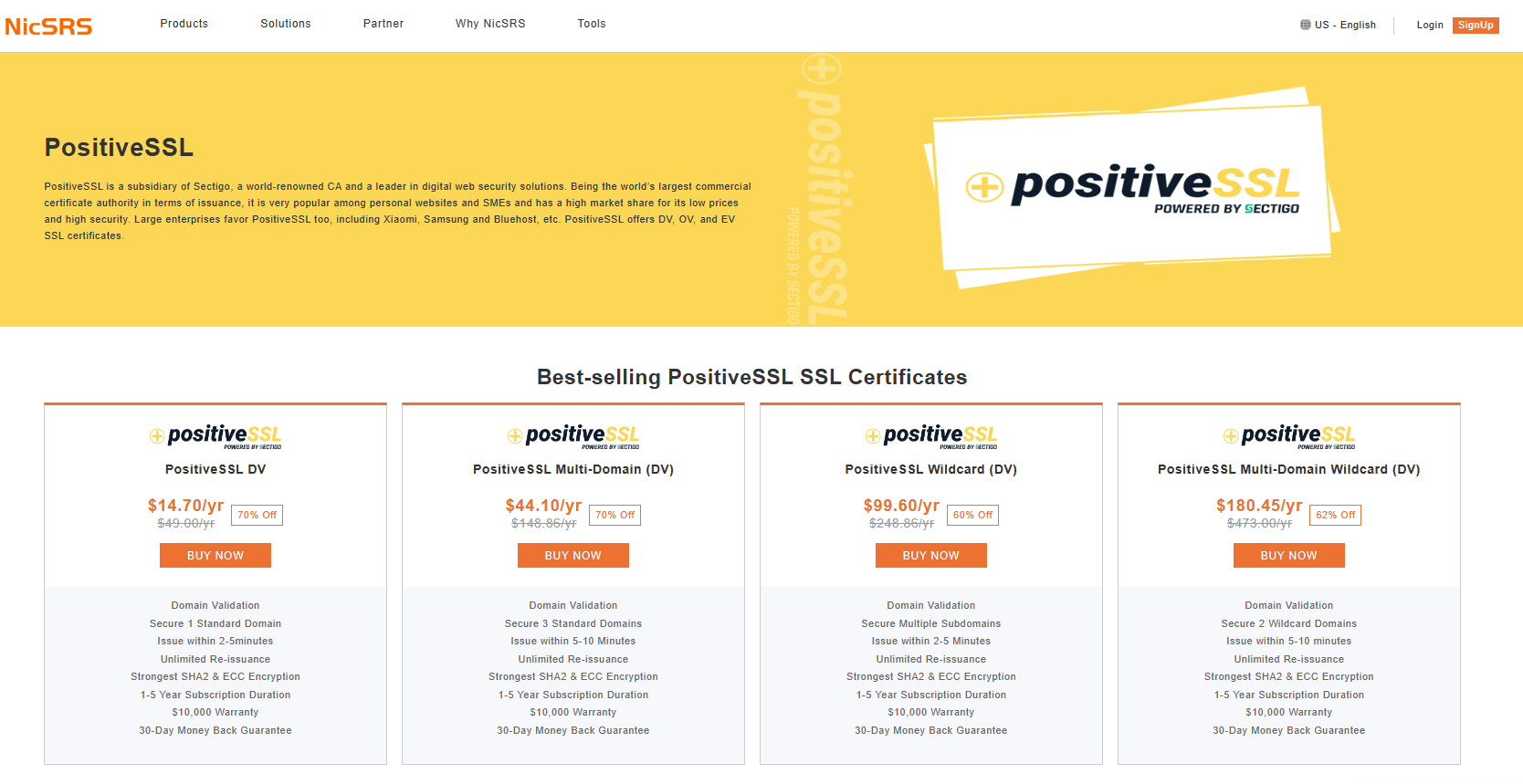 Partner: Building Strong Collaborations
NicSRS isn't just about providing security solutions; it's also keen on fostering partnerships within the digital security landscape. The introduction of the Partner Programs reflects this commitment to collaboration. This program is designed to nurture relationships between NicSRS and organizations that share a passion for enhancing online security. Partners can look forward to an array of benefits, including heavily discounted pricing, marketing support, sales and marketing tools and technical assistance.
In addition to the above new pages, NicSRS has also added other pages to expand its product range, including email server, domain, DNS, WHMCS etc.
Advantages of NicSRS
NicSRS continues to stand out in the highly competitive web security and hosting industry, thanks to its unique advantages and an exceptionally user-friendly website.
Diverse Product Portfolio: NicSRS offers a wide array of products and services, including SSL certificates, VMC certificates, SiteLock, S/MIME, code signing certificates, web hosting etc. This diverse product portfolio allows users to find all the solutions they need.
Cutting-Edge Security: NicSRS is known for its commitment to web security. Their SSL certificates ensure data encryption, while VMC certificates protect against email spoofing and phishing attacks. This commitment to security helps businesses and individuals build trust with their online audience.
Cheap Price Guarantee: NicSRS offers our customers unbelievable prices because we are the strategic partners of the most trusted brands like Sectigo, DigiCert, GlobalSign, GeoTrust, Thatwe, etc. We buy these security products at deeply discounted rates and pass those margins directly to you. The more you buy, the more you save.
World Class Support: We have provided professional and timely customer service for years. Our friendly support team members have years of experience and are also ready to help with any queries or questions at any time, 24/7.
The Ease of Use of NicSRS Website
NicSRS has always been committed to ensuring that users can access the information and services they need with ease.
Intuitive Navigation: The website's new design boasts an intuitive interface, with clearly labeled sections and a user-friendly menu that guides visitors to their desired destinations effortlessly.
Informative Content: NicSRS's website is a treasure trove of information. Each product and service page is filled with detailed descriptions, benefits, and use cases, ensuring that users have all the information they need to make informed decisions.
Streamlined Processes: Whether it's purchasing an SSL certificate, registering a domain, or exploring web hosting options, NicSRS's website streamlines these processes, allowing users to get what they want quickly and efficiently.
Responsive Design: The website is responsive, ensuring a seamless experience across various devices, from desktops to smartphones.
Resourceful Blog: NicSRS's blog provides valuable insights, tips, and best practices related to web security and hosting, further assisting users in their online journey.
The decision to revamp the NicSRS website and introduce these new sections was influenced by user feedback and our determination to provide better service. NicSRS has always prided itself on actively listening to its customers and responding to their needs. This upgrade is a testament to the company's dedication to providing an exceptional user experience.
The new website upgrade represents NicSRS's ongoing commitment to excellence and user satisfaction. Visitors are encouraged to explore the new pages, learn about the latest in web security solutions, and take advantage of the valuable resources provided.
To experience the enhanced NicSRS website and learn more about their offerings, visit www.nicsrs.com.