Most Popular Wildcard SSL
Wildcard SSL certificates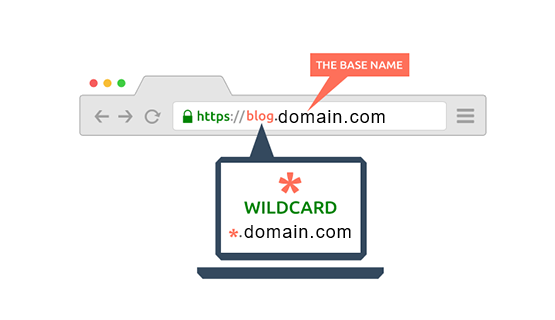 What does a Wildcard SSL certificate cover?
A wildcard certificate can protect the main domain and first level of multiple subdomains with up to 256-bit encryption security. And except for its low cost and easy management, wildcard certificate is extremely flexible for you to add new subdomains later without reissuance. There's no regulation to how many subdomains can be covered with just one wildcard certificate, so you can add an asterisk for unlimited:
www.domain.com
mail.domain.com
blog.domain.com
shop.domain.com
portal.domain.com
admin.domain.com
and more…….
Check Out Popular SSL Certificates
FAQs on Wildcard SSL certificate
Q

What is a wildcard SSL certificate?

A

A wildcard SSL certificate is designed to secure main domain and all its subdomains. For example, *.nicsrs.com can protect the first level of subdomains: www.nicsrs.com, blog.nicsrs.com, mail.nicsrs.com. No matter how many subdomains you'd like to cover, it allows to add new additional subdomains in your current wildcard certificate at any time without extra fee and authentication.
Q

What are the advantages of wildcard SSL certificate?

A

This certificate has numerous advantages, and a few of them are:
Establish industry-standard encryption across all subdomains.
A cost-effective way to get security of all subdomains.
Protect unlimited subdomains under a single roof.
Save your time from multiple certificate management.
Q

How to choose a wildcard SSL certificate?

A

When it comes to purchasing a wildcard certificate, these elements below you shall consider: Type, Price, Brand.
Both Domain Validation (DV) and Organization Validation (OV) Certificates support HTTPS encryption for all subdomains. You will benefit a very cheap price and fast issuance from DV Wildcard SSL certificate. If you assure organization authentication for your site, an OV wildcard certificate is suitable to you.
Digicert (Symantec) is the global leader in the SSL/TLS Industry with the most recognized certificates. Along with additional features like malware scans and vulnerability assessments, Digicert wildcard SSL certificates come with the most universally trusted indicator in the world – the Norton seal.
Entrust is also one of the famous SSL certificate providers. Entrust certificates with fast issuance are requested by many large-scale IT companies, e-commerce enterprises.
The wildcard certificates of Geotrust and Sectigo are cost-effective and suitable for SMBs.
All in all, you've got a popular wildcard certificate at a good price from nicsrs.com.
Q

How do I know if my SSL certificate is a wildcard?

A

There is a simple way you can check your certificate type in the browsers. On a secure page of your website, a wildcard certificate puts an asterisk before a domain name (*.domain.com). Please check the certificate details as follows:
Click the padlock in your web address bar.
View the certificate information there.
A domain name with asterisk will display in the "Issued to" section.